Sign In

Sign In

Please enter the email address for your account. A link to change your password will be emailed to you.

All Fields Required

Quick Order Pad

Enter Part Numbers below to add them to your cart

Need to order more than 3 items?
Go to the Quick Order Page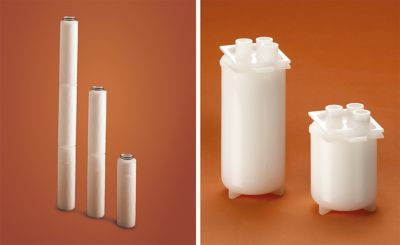 BILLERICA, MA, June 18, 2015  ̶  Entegris, Inc. (Nasdaq: ENTG), a leader in yield-enhancing materials and solutions for highly advanced manufacturing environments, announced the first shipments of production quantities of UPE (ultra-high molecular weight polyethylene) membrane from its i2M Center for Advanced Materials Science in Bedford, Massachusetts. UPE membrane is a core material used in high-purity filtration solutions for semiconductor and life sciences applications.
"In the first half of 2015, we reached multiple milestones in our expansion plan to provide new membrane technologies to solve the yield challenges our customers face to manufacture semiconductor devices," said Entegris Vice President of the Liquid Microcontamination Control business unit, Clint Haris. "Several key customers have completed their qualification process and are now receiving i2M-based products for use in current applications, as well as for their developmental programs. We're excited to take this step forward as we continue to commercialize other UPE-based technologies in 2015."
The 80,000 sq. ft. facility opened in June 2014 as a $60 million investment intended to create one of the most advanced facilities of its kind. The investment included an expansion of membrane manufacturing capacity, implementation of advanced process controls and upgraded quality monitoring systems. In addition, the i2M Center is also used to develop and manufacture gas filtration and specialty coatings products.
For more information about the i2M Center and the products please visit www.entegris.com.
Photos accompanying this release are available at
http://www.globenewswire.com/newsroom/prs/?pkgid=33858
http://www.globenewswire.com/newsroom/prs/?pkgid=33859
About Entegris
Entegris is a leading provider of a wide range of products for purifying, protecting and transporting critical materials used in processing and manufacturing in the semiconductor and other high-tech industries. Entegris is ISO 9001 certified and has manufacturing, customer service and/or research facilities in the United States, China, France, Germany, Israel, Japan, Malaysia, Singapore, South Korea and Taiwan. Additional information can be found at www.entegris.com.