Sign In

Sign In

Please enter the email address for your account. A link to change your password will be emailed to you.

All Fields Required

Quick Order Pad

Enter Part Numbers below to add them to your cart

Need to order more than 3 items?
Go to the Quick Order Page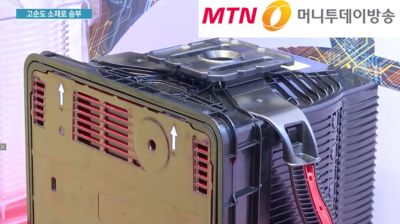 Korea's biggest semiconductor exhibition "SEMICON Korea 2019" has opened at COEX Seoul as of yesterday. With global companies armed with the lastest
semiconductor-related technologies participating, a global leader in providing
advanced materials and materials handling solutions for leading-edge
manufacturing processes "Entegris" has caught spotlight through showcasing
various types of specialized carriers to store and transport high purity
materials.

Reporter Seok-jin Yoon has went to the site. "SEMICON Korea 2019," a place where the evolution of semiconductor industry is predicted and seek adequate measures.
Entegris showcased technologies and innovations where mateirals andchemicals used in semiconductor can be safely stored and transported: from tubes without statics, to wafer boxes and filters that can sift out nano-sized particles, there were much to be seen.
[JaeWon Kim / Country Manager of Entegris Korea]
From the early stages of where chemical is manufactured to the end users of chip makers, Entegris possesses the capabilities to deliver clean chemicals through our competence in high-performance filters and Advanced Materials Handling.
Entegris, founded in 1966, is a company in specialty chemicals and advanced materials operating out of its headquarters in the U.S., with also global offices out in China, France, Germany and Korea possessing manufacturing sites and lab centers.
Recently, Entegris has accelerated in investing in the Korean market to cope with rising demands of high purity materials. Just last year, Entegris invested approximately KRW 50 billion to expand its facility in the JangAn area. The expansion was the largest investment in scale over the past five years withultimate goal to make the facility its largest global manufacturing site for specialty chemicals and engineered materials globally.
[Todd Edlund / COO of Entegris]
As Korea continues to grow in the next decade for semiconductor, Entegris will continue to grow our capabilities here to serve the local economy as well as the broad Asia semiconductor industry. According to the Bank of Korea and other major market research companies, prospects are made that the economic recovery for semiconductor industry will be underway in the second half of this year, where Entegris' growth will also continue.
By breaking the KRW 1.2 trillion mark in 2015, Entegris has been continuously rising in terms of growth. 
With the rise of IoT, AI, AR and other innovations, Entegris' growth is visioned to accelerate sustainably.