Sign In

Sign In

Please enter the email address for your account. A link to change your password will be emailed to you.

All Fields Required

Quick Order Pad

Enter Part Numbers below to add them to your cart

Need to order more than 3 items?
Go to the Quick Order Page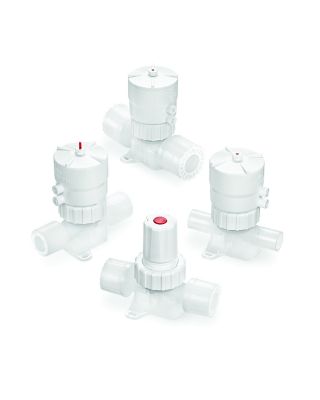 BILLERICA, Mass., July 11, 2017 – Entegris, Inc. (NASDAQ: ENTG), a leader in world-class specialty materials, announced today its new Integra® Plus WS (weir style) family of fluid management valves. Created for use with corrosive chemicals in semiconductor processing applications, the new valves are constructed from high-purity, chemically resistant PFA and PTFE and feature a streamlined design to keep the flow path clean and free from contaminants. In addition, its single-piece diaphragm design eliminates potential separation, increasing valve life and reducing downtime for changeouts. As a result, the new Integra valves enable customers to manage high-flow, bulk chemical delivery with improved process reliability. 
"The new Integra valves are optimal for today's larger semiconductor manufacturing facilities that utilize higher chemical volumes, requiring bulk chemical distribution systems with high-flow capabilities, said SVP and General Manager of the Advanced Materials Handling Division for Entegris, Bill Shaner. "Additionally, the Integra valves offer a smaller footprint – yet still provide high-flow capacity – and can minimize dead volume to enable quick chemical system flush-up."
The new valves also provide:
• A Cv flow over 25—more than twice that of typical poppet-style valves
• Single-piece diaphragm construction, eliminating potential diaphragm separation
• Forward- and backward-compatible configuration for easy, mistake-proof installation
• Two-way configurations with either manual multi-turn or pneumatic "normally closed"or "normally open" actuators
Integra Plus WS valves are available now with fully characterized standard PrimeLock®, Flaretek® "SpaceSaver" and PureBond® pipe port connections. They provide system flexibility and easy installation into any fluid handling system. 
For more information, please visit the Entegris product display area during SEMICON® West at the W Hotel near the Moscone Center in San Francisco, July 11 – 13, or visit the product web page at www.entegris.com/integraplusws.
ABOUT ENTEGRIS
Entegris is a leader in specialty chemicals and advanced materials solutions for microelectronics industry, life sciences and other high-tech industries. Entegris is ISO-9001 certified and has manufacturing, customer service and/or research facilities in the United States, China, France, Germany, Israel, Japan, Malaysia, Singapore, South Korea and Taiwan. Additional information may be found at www.entegris.com.