Sign In

Sign In

Please enter the email address for your account. A link to change your password will be emailed to you.

All Fields Required

Quick Order Pad

Enter Part Numbers below to add them to your cart

Need to order more than 3 items?
Go to the Quick Order Page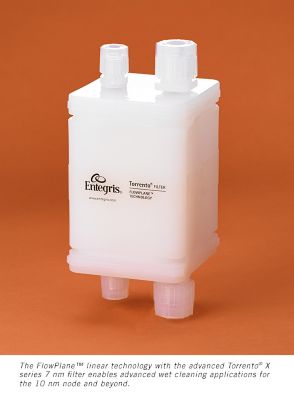 BILLERICA, MA, July 14, 2015 – Entegris, Inc. (NASDAQ: ENTG), a leader in yield-enhancing materials and solutions announced today the release of Torrento® X Series 7 nm filters with FlowPlane™ linear filtration technology. FlowPlane is the semiconductor industry's first scalable, linear, high-flow filtration platform enabling advanced wet cleaning applications for the 10 nm node and beyond. The first in a series of filters based on the linear filtration technology, the FlowPlane S model is designed for point of dispense (POD) applications, enabling improvements in both on-wafer defectivity and yield for critical wet cleaning applications. 
"We've reached an inflection point where filter design must evolve to meet the needs of the most complex semiconductor manufacturing processes," said Entegris Vice-President of the Liquid Microcontamination Control business unit, Clint Haris. "A filter is the last line of defense to prevent defect-causing contaminants from reaching the wafer. Our smaller, more powerful filtration solution will enable our customers to effectively implement their 10 and 7 nm technology nodes." 
Torrento X series 7 nm filters with FlowPlane linear filtration technology improve retention and increase flow rate performance by 100% compared to similarly sized radial filters. Moreover, FlowPlane users will benefit from the format's smaller device footprint as well as improved wafer defectivity performance. 
For more information about the Torrento X Series 7 nm filters with FlowPlane linear filtration technology, go to www.entegris.com.  
About Entegris
Entegris is a leading provider of a wide range of products for purifying, protecting and transporting critical materials used in processing and manufacturing in the semiconductor and other high-tech industries. Entegris is ISO 9001 certified and has manufacturing, customer service and/or research facilities in the United States, China, France, Germany, Israel, Japan, Malaysia, Singapore, South Korea and Taiwan. Additional information can be found at www.entegris.com.