Sign In

Sign In

Please enter the email address for your account. A link to change your password will be emailed to you.

All Fields Required

Quick Order Pad

Enter Part Numbers below to add them to your cart

Need to order more than 3 items?
Go to the Quick Order Page
Advanced Semiconductor Manufacturing Conference (ASMC) 2019
Entegris is pleased to participate in the Advanced Semiconductor Manufacturing Conference (ASMC) 2019, the leading international technical conference for discussing solutions that improve the collective manufacturing expertise of the semiconductor industry.
May 6 - May 9 2019
Saratoga, NY
Saratoga Hilton
Advanced Semiconductor Manufacturing Conference (ASMC) 2019
May 6, 2019 2:59 PM
May 9, 2019 2:59 PM
Saratoga Hilton
Entegris is pleased to participate in the Advanced Semiconductor Manufacturing Conference (ASMC) 2019, the leading international technical conference for discussing solutions that improve the collective manufacturing expertise of the semiconductor industry.
/content/entegris-live/en/home/about-us/events/advanced-semiconductor-manufacturing-conference-asmc-2019
Meet our experts onsite and join us for the following engagements:

Tuesday, May 7 | 8:35 am - 8:40 am  
Awards
We have the great honor of presenting the ASMC 2018 Entegris Best Paper: 'Contamination Free Manufacturing Uncovering Chemical Quality Improvements Through a Holistic Approach to Chemical Quality Management' to Nora Colligan, Samsung Austin Semiconductor.

Featured Poster
Tuesday, May 7 | 5:30pm - 7:00pm
Session 5: Posters
The Benefits of Multi-Stage Filtration for Improved CMP Slurry Large Particle Retention
Allison Hsu, Bob Shie, Bradley Wood, Entegris
It is well understood that large particles and agglomerates in CMP (chemical mechanical planarization) slurries can generate defects on wafer which can result in yield loss. To minimize defects caused by large particles/agglomerates many fabs filter the slurry in the sub-fab's SDS (slurry delivery system). It is less common to employ filtration at the Point of Use (POU), either the POT (point of tool) or POD (point of dispense), to further mitigate large particles that form in the slurry loop during recirculation. A bench setup using a combination of filters, representing those that are commonly used in the SDS and POU systems, was used to simulate both single-pass and recirculation modes.  Optical particle measurement data showed a reduction in LPC (large particle count) (>0.5 um).
Featured Poster
Wednesday, May 8 | 3:30 PM    
Session 11
11.3 Parametric Optimization of Gas Purifier: A CFD (Computational Fluid Dynamics) Modeling Approach
Amlan Chakraborty, Rocky Gipson, Josua Cook, Entegris
Performance optimization is a critical issue in designing gas while removing volatile organic compounds (VOC) and other contaminants from industrial gases by adsorption technology. Because adsorption performance varies greatly as a function of process parameters, there is long term interest to develop a suitable parametric optimization tool in an effort to reduce development time. Though empirical approaches can be and have been employed, these can be difficult due to time and cost constraints. As an alternative approach, an optimization study was performed in this effort through development of a novel CFD (Computational Fluid Dynamics) method."
Featured White Paper
Exploring Possibilities: A Holistic Approach to Materials Processing for Scaled Devices
This paper focuses on the issues of scaling logic devices as the industry progresses beyond the 7 nm process node, and the need for changes in device architecture, feature dimensions, process materials, and fabrication equipment to achieve production goals.
Download White Paper
Featured Content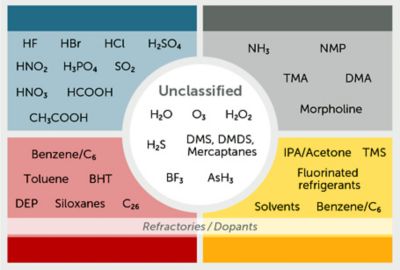 The Rare Air of Semiconductors
Microelectronics fabrication plants (fabs) are complex structures that require sophisticated air circulation and control. For management and energy savings, most of the conditioned air inside a fab is recirculated and may carry increasing amounts of contaminants that are produced internally, from humans, materials, chemicals, and equipment. 
Chasing the Perfect Pattern
Flaws in photolithography patterns have always had a negative impact on yield.  It is becoming more imperative than ever for semiconductor fabricators to prevent these pattern flaws to ensure the functionality and reliability of these devices. Learn how they're doing it.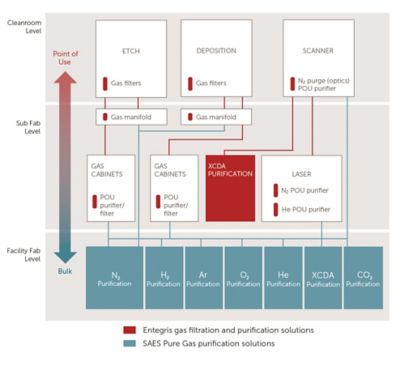 End to End Gas Purification
Semiconductor device yields have long been impacted by contamination. As process nodes continue to shrink to 5 nm and features become more complex — pushing the manufacturing challenges of chip designs to new limits — the sensitivity to contamination during manufac­turing processes has increased significantly.
Featured Product Solutions
Purasol™ Photochemical Solvent Purifiers
Purasol™, a first-of-its-kind solvent purifier, removes a wide variety of metal microcontaminants found in organic solvents used in ultraclean semiconductor grade chemical manufacturing processes. 
Gatekeeper® Gas Purifiers
Our stand-alone gas purifications systems offer in-situ regeneration with advanced control to meet your requirements. Plus, our safer, environmentally-friendly systems are available in many configurations to meet your specific application.
Planargard® Bulk CMP Slurry Filter
Best-in-class, bulk slurry filter with ultra-high particle loading capacity for bulk processes in sub 45 nm technology nodes. Enables superior hard particle removal and gel retention performance to prevent microscratches.
Vaporsorb® AMC Filters
Tool AMC filters provide superior protection from common AMC in the fab including molecular acids, bases and organics. Tool AMC filters utilize both standard filtration media and custom media blends to meet various AMC removal requirements.